The mobile app, web apps, and single page application market keep growing every day. In such a big market, there is no surprise that more people are asking questions regarding how much does app development cost. If you have a startup you will need an app to attract clients. You will probably ask yourself, how can ı hire an app developer and how much does it cost to make an app? Pricing of the app development depends on complexity, requested features, and is it a web or mobile application. When an app has fewer features and less complexity, sure it will cost you lesser when compared to a fully-featured web or mobile app. Because of the labor for making this complexity Ex. feedback system, user authentication, or real-time messaging needs extra development processes. That's the main factor of the cost change. Now we will talk about how you can estimate the cost of an app.
How to estimate app development costs?
Before we get into much detail about custom app development costs, you can estimate yourself how much probably your app will cost to develop. If you need a single page web application, Wireframes, UI/UX, and single page web app development services will cost you approximately in a range of $1,200 - $3,500. That's the amount of building the core application. Extra features will increase this range. If you need an application that has between 2-10 pages, developing a core web app with some non-complex features approximately cost around $3,000 - $5,500 As we mentioned above extra complex features will increase the cost of development.
Now we can talk about how much will app development cost you if extra complex features are needed. Assume that you need an e-commerce app. You will need a cart system, authentication system for users, admin dashboard, payment integration, and much more. This app needs much labor in development because of client needs and market requirements. This web app approximately cost around $5,000 - $25,000 and it will be feature-rich also ready to make a profit. Custom and big complex web apps which have messaging systems, review systems, or detailed search functionality have too much labor inside them. Every feature needs more than 40 hours of human labor and development process. This kind of custom and big web app approximately cost around $30,000 - $250,000 depending on features that are needed. How much does it cost to make a mobile app? The answer is similar to what we are told in the web app. If you need a single page mobile app with no features it will cost you in a range of $1,500 - $3,500 UI/UX design costs will be included in that range. if you need a mobile app development with page range 2-10 including UI/UX design and development service, It will cost you in a range of $3,500 - $6,500. Extra features like login, feedback, or admin dashboard, will increase the cost of the app. Fully featured web or mobile applications with many features and functionalities can cost you in a range of $25,000 - $250,000. Depending on client requirements this range can go up or down.
How many hours does app development take?
In this section, we will talk about how many hours we do spend developing your app from scratch to the final product. We spend so much labor to get the maximum quality and speed from an app. The quality of our apps is at a high level and bug-free. The number of hours below is estimated for a medium complexity project.
Project architecture: 30 Hours
Wireframe Design: 20 Hours
UI/UX Design: 55 Hours
Development: 500 Hours
Search engine optimization: 25 Hours
Server Setup & Launch : 10 Hours
How much do extra features cost?
This section will show you some approximate costs of features and approximately how many hours will be spent on each feature.
User Authentication Development
User authentication is login, logout, and forgot password functionality. User authentication needs some complex encryption to make users log in safely. This feature takes 40 hours of the development process. This process will approximately cost you extra something between $1,500 - $3,500
Notifications
Notifications make users get real-time notifications. Web or mobile applications will send notifications, when a user sends a message to another user or when a certain process is done the app will send a notification to the user. This app feature needs 30 hours of the development process and approximately costs extra in a range of $1,500 - $2,500
User Profile
Users will be able to create their profile pages, upload their pictures, and update their information in the app. Users will also be able to change or customize their cover pictures. This app features will take about 25 hours of development and approximately cost you extra something between $1,800 - $2,900
Search functionality
Users will be able to search for something in your app, that can be a user, blog post, or something else. The search feature will take about 20 hours of development and approximately cost you extra something between $1,000 - $2,200
Messaging & File operations
Users will be able to send real-time messages, get messages and send, receive files. This app feature will take about 150 hours of development and approximately cost you extra something between $14,000 - $18,000
Why you shouldn't choose cheap app development?
Some companies will probably return to your app development request with insanely cheap prices. This shows their quality of work. We know that cheap app development companies mostly work with copy-paste codes that have bugs. The applications that cheap companies built will not be maintainable and scalable. Cheap application development companies can show you beautifully designed apps but the backend of the application probably won't work as you expected.
We provide high-quality, fast, maintainable, and secure apps that deserve the price. Also, we help you to scale your app when your business needs it.
Complexity
Depending on the complexity level of app, app development can cost ranges from $5,000 to $200,000 Also another important factor that changes the cost of development is where the development company is located.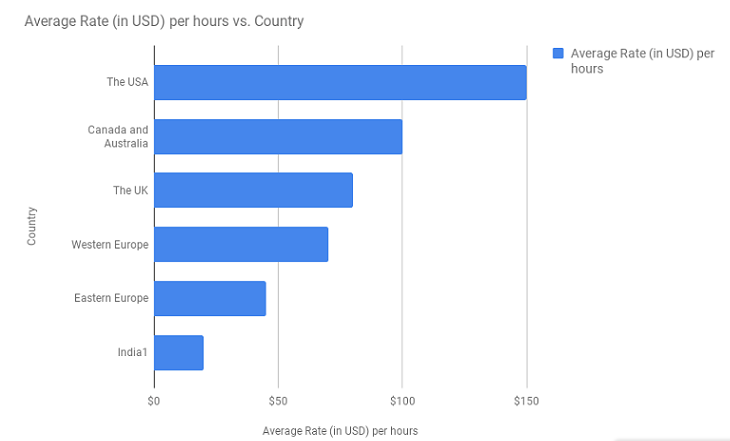 | | | |
| --- | --- | --- |
| App Type | Est. Cost | Time |
| Simple App Development | $10,000 to $30,000 | 1-3 months |
| Basic App Development | $30,000 to $150,000 | 3-6 months |
| Complex App Development | from $200,000 | 9+ months |
Cost of development by region
Depending on the app development company location, the same app can cost you less in some countries. Because of the developer salaries and developer hourly rates, Asian developers will build the same app for nearly half the price of the western countries. This table shows some of the country's hourly developer salaries.
How much does it cost to hire an app developer?
Depending on the complexity of your project and the location of the developer, hiring an app developer will cost you between $20 to $150 at an hourly rate.
| | |
| --- | --- |
| Country | Hourly rate |
| Usa | $100 to $140 |
| United Kingdom | $90 to $130 |
| Western Europe | $80 to $120 |
| Eastern Europe | $40 to $90 |
| India | $20 to $30 |
Summary
Depending on the many factors app development can cost you as cheap as $3,000 or more than $200,000. You can simply ask for development costs from us with the form at the bottom. We made a list that tells you the main factors that define the cost of a web or mobile application.
Complex design and animation increase the cost of development. Simple User interface design will be built fast by developers and that will cut your design costs.
Less features costs less. If you want a fully-featured app, that might cost you much more than an MVP which only haves the core features of an application. Define the core features that your app will need, this will reduce the cost of development.
Choose the right country for your next app development. Always be aware that super cheap options might not be a good idea.
---
cost to develop an app
,&nbsp
app development cost
,&nbsp
cost of developing an app
,&nbsp
developing an app cost
,&nbsp
costs for app development
,&nbsp
costs for app development
,&nbsp
how much does it cost to hire an app developer
,&nbsp
how much does an app cost to make