If you don't know how to code your mobile app. You should hire a mobile app developer. You will probably don't know where to start and what to do. To be honest, finding the right developer is not an as easy thing as you can expect. There are lots of factors when you want to hire the best and right developer. This post will guide you on what to do to find the best app developers and how to find the best mobile app developers.
What type of app do you need ?
Before you choose any developer you should know what type of app do you need? Is it e-commerce, social media, or any other type of application? Also, do you need this app for your startup or your company? Before you hire the developer you should know which type of application that you need and then you can start seeking your developer. The type of application that you need will give the developer an idea of how it needs to be developed.
What are the stages of mobile app development ?
Stages of mobile app development first start with a client idea. The client comes with an idea to the developer and the developer starts analyzing the idea and draws a schema of this application. After developers analyze the idea, the wireframes of the app need to draw by designers. These wireframes will help frontend developers to understand what the app must look like. When wireframes are done designers will design the UI / UX which is named user interface and user experience, this design will be a real preview of your dream application. At the stage after the design process is done frontend and backend developers will work together and complete the all visual side and the backend side. When your app works without issues it's time to launch your mobile app on app stores.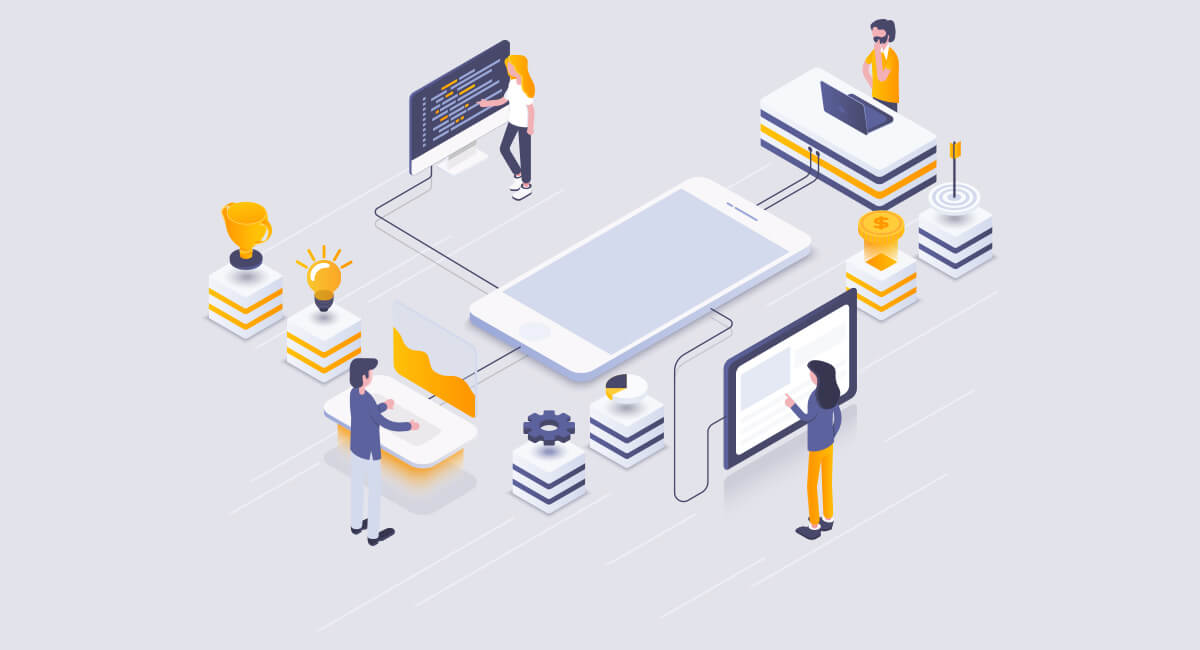 Does developer fits your budget ?
When you need an app development service, you should have the right budget for development. Assume that you need a big e-commerce website clone or maybe something similar. If you have a less budget or don't wanna spend much. Instead of building clone applications, you can try a minimum viable product (MVP) approach. This approach will both fit your and the developer's budget. Because a minimum viable product (MVP) is easy to develop and can be built with a low budget. Depending on the complexity level of your app and where the development company is you will get the right offers for your next mobile application.
Check portfolio of the developer
If there is no portfolio, that means no experience. If you want to understand the quality of the developer and the quality of his job, you should check his/her portfolio page. Every developer or development company has a portfolio page, you can see the older works of the development company on their portfolio page. You can also check our portfolio page. We provide high-quality mobile applications with a rock-solid backend.
Ask reference applications
Like in the portfolio example, ask references and live working mobile app examples to a development company. The quality of the working mobile applications of the development company will give you an exact idea of the quality of their mobile apps. Check the live applications, visit their mobile apps and download them. Test the application and if you feel okay with the mobile app, you can agree with this development company.
Check reviews
Before making an agreement and paying an upfront amount to a development company, make research about the company on the internet. You can easily search and find the reviews of the app development company by just typing the company name on the search engine. After you feel okay with the app development company, you can request a proposal for your next mobile application.
Beware so cheap developers
Some developers will give you very cheap offers for your project. You will probably say cheap options will provide the same quality as the expensive ones. The answer is simply no. Cheap development offers are mostly developed with copy-paste codes. What does it mean? That means they will probably copy another project's code to finish your task faster. This type of app development causes lots of problems and bugs in production. Because they are not a well-tested mobile app. When they finish your mobile app and upload it to app stores it will look like it works like charm but the backend side won't work as expected. Instead of choosing super cheap options going with the app development company which has a good portfolio and reviews will be the best option for your next mobile app.
Do I need to pay the full amount upfront to the developer?
No, you should just give pay a maximum of 50% as an upfront payment to the app development company. You can ask them what they need upfront, but paying the all amount upfront is a big danger for you. After the mobile app developer completes the task you can send the remaining. The developer will launch the app when getting the total amount. You will be ready to make sales on your mobile app and make a profit.
Which technologies used for mobile app development ?
There are two approaches to mobile app development. Every mobile app development approach has its own latest technologies. If you need native applications for each platform, swift language is used for ios app development, and kaolin is used for native android app development. If you want to go with cross-platform application development flutter and react native is used for cross-platform app development. Now let us explain what native and cross-platform mean. Native app development means a developed mobile app will work only on ios or android depending on which technology is used to build. Cross-platform means the developed app will work on both ios and android operating systems.
What we do offer ?
We offer high-quality, rock-solid mobile native and cross-platform apps. We can build your mobile application with our team of expert mobile app developers. You can reach us using the contact form at the bottom or from the menu. We will reach you in a short time.
Summary
In this summary we will talk about some must haves on development company to be hired. This guide will help you to choose app development company much easier.
Check portfolio of the app development company
Hire mobile app developers with good reviews.
Do not go with super cheap mobile app developers.
Ask app development company about are they using copy-paste code?
Send max 50% of the total amount as upfront payment.
Ask for live mobile app references that app company built.
Ask for their offer for your mobile app.
---
app developer for hire
,&nbsp
app developer hire
,&nbsp
app developers for hire
,&nbsp
hire an app developer
,&nbsp
hire app developer
,&nbsp
hire app developers
,&nbsp
hire developers for app
,&nbsp
hiring app developers