Building an MVP is one of the most important techniques when you start building an application for your idea. MVP is the most basic and functional version of an app. MVP stands for Minimum Viable Product. These words give you an idea of what MVP is. Minimum Viable Product (MVP) helps startups and companies to build a new products with basic features to satisfy members. After enough amount of feedback is received, you can scale your application and add new features later on. MVP technique is mostly used in the software industry to create an application with basic features to reach new users.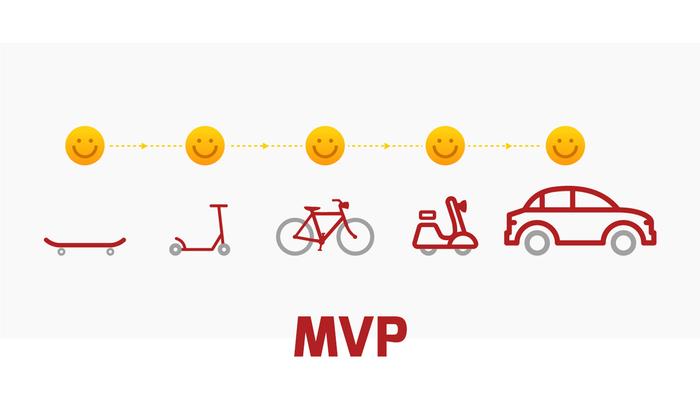 Differences of MVP from a Final Product?
Launching an MVP is the fastest, most efficient, and best way to test user feedback. Most entrepreneurs want to have a final product with a complex system loaded with tons of features but it's wrong for startups. Because it is confusing the users and makes them leave your app. The most efficient way to have an application with basic features is MVP. Another disadvantage of the final product is it takes so much time to develop. Because of having fewer features, MVP is easy to build and you can have your mobile or web application in a short time. Another advantage of an MVP is low budget-friendly. MVP can be built with low budgets because the development time and labor are less when it's compared to a final product. MVP is mostly chosen by startups who want to solve a problem or startups that want to make something innovative. Final products are usually chosen by big companies.
How to plan MVP ?
When you want to create an MVP you should ask yourself, what problem does my app will solve? When you have an app idea in your mind and want to turn that idea into a real product the first question will be what problem does my app solve? When you decide on the problem that your app will solve and found the solutions, the next step will be is market research of that app. After you discover that there is no solution in the market for the problem that your app will solve, The next step will be designing an MVP. The first wireframes of your application will be created. After that actual development process will take the place and when all the development and testing process did you will have an app that solves a certain problem in the market.
Why make an MVP ?
Cost
MVP contains just the basic features of an app. This basic version of an app will cost you less than a final product with tons of features. When you get good feedback from the users about your application, you can scale and add more features to attract more users in a short time. There are lots of advantages to building an app with the MVP technique one of them is reducing the development costs. Your startup or company can create a minimum viable product in a short time with a tight budget.
Feedback
MVP apps can be launched on app stores in a short time. What that means is you can start marketing your application in just a couple of weeks and get organic feedback from the users. The results coming from this feedback will direct you to develop the right features for the users on newer versions of your app. Feedback and test-driven apps are the keys to a successful business.
MVP guidelines
You should follow this guideline to make a successful MVP.
Build a product or mobile app development with core features that your client needs.
Build only what is needed to attract new clients.
Release new updates on your product when you have enough feedback from users.
Scale your MVP after you have a decent amount of users.
MVP Steps
Most people think that their idea is unique and undiscovered. The truth is %99 percent of your ideas have an app on app stores. Before you spend your time and money on your next MVP you should follow along with these steps.
Analyzing your idea will save you from wasting time and money.
Make deep market research. Before building an MVP of your mobile app development or web app development make deep market research on your idea. If nothing similar is done on the internet and if there is no similar app on app stores you are on the right way to success.
Analyze the market volume. Make a research about what is the search volume of the idea that you have. If the search volume of your idea is so low it might not be a good idea to make an MVP of that idea.
Find investors for your MVP. Those investors can be your family or maybe your friends it doesn't matter. You will need money to develop the MVP of your application. Also, you will need to create your founding team. You can find much more details about How to get investors for your app startups?
Scale your MVP and keep updating the application. When you have enough reviews and feedback from new and existing clients it is time to scale up your idea.
Advantages of MVP
There are a lot of advantages of the MVP approach for your next startup. This list will show you some of the advantages of MVP development.
Startup friendly. MVP is mostly chosen by innovative startup companies that focus on specific problems in the market.
Low cost. MVP development cost is very low when you compare it to the big and complex final product.
Built time is fast. Depending on the complexity your MVP development can be done under 3 months and your product or service app will be ready to publish on app stores.
Focusing on the specific problem. MVP approach is focusing specific problems in the market and MVP product is developed with the core features related to this problem.
MVP is simple. MVP has only the core features and functionalities to attract new clients to use that product.
Conclusion
MVP solves the problem with a minimal budget and the shortest time. When you define the problem and find the right solution in the market. You are almost done with 20% of the complete progress. Today there are billions of websites and millions of application that solves a problem in their fields. But still millions of problems looking for solutions today. You can create your MVP product, solve a problem and start making a profit in a short time with the right development, strategies, and marketing.
MVP is simple. MVP as we said earlier stands for Minimum Viable Product, your app must be simple and needs to have only core features to satisfy the users. When you get organic feedback you can add lots of features in your app later on regarding user needs.
Market your app. When you have your MVP you can start marketing your application and attract users. That can be digital marketing, mail marketing, social medial marketing, or advertising. You can attract users with different ways of marketing styles and make your app successful.
---
minimum viable product
,&nbsp
minimum viable product mvp
,&nbsp
what is a minimum viable product
,&nbsp
mvp meaning
,&nbsp
what does mvp mean
,&nbsp
what is a mvp
,&nbsp
definition of mvp
,&nbsp
what does mvp stand for
,&nbsp
software mvp
,&nbsp
minimum viable product approach